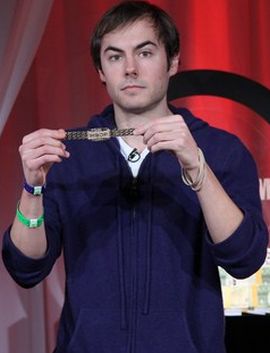 American Elio Fox etched his name into poker lore by winning the 2011 WSOPE Main Event, and the biggest ever WSOPE prize at €1,400,000 ($1.93 million). With the victory, Fox becomes the third US player to win the WSOPE Main Event since it was started in 2007.
You could say that Elio Fox cruised through the final table since he entered the last day of play with 3.9 million chips – 1.2 million more than any other player. And Fox pushed his advantage throughout the whole day since he never lost his lead, and walked a heads-up match with Chris Moorman holding a 3-2 chip lead.
By no accounts did his chip lead over Moorman guarantee anything, but the UK native never really got within striking distance of Fox since the match ended in just 25 hands. On the last hand, neither player got help from the board, but Fox (A-T) held a better kicker than Moorman (A-7).
One of the biggest underlying themes going into the 2011 WSOPE Main Event was whether an American or European would win the tournament. Brit and 2010 WSOPE Main Event champion James Bord made this a big deal when he told MatchBook.com, "I don't think an American can win the bracelet, Europeans are now far superior. We used to look up to the U.S. players back in the day, but those days are now long gone."
Apparently Bord spoke too soon after looking at how Elio Fox did in the 2011 WSOPE Main Event. Unlike Bord, Fox was humble in victory as he told WSOP reporters, "I ran really well. I think I am pretty good at poker. But people put too much stock into somebody winning a tournament and I think that all the time when the media talks about a new player winning some tournaments….there's a lot of luck in tournaments. Short-term results in tournaments really does not matter that much."
He finished by adding, "There are a lot of great players with no wins to their name and some mediocre players with a lot of wins to their name. But, I was really fortunate to run this well.  I certainly hope it continues."
2011 WSOPE Main Event final table results:
1. Elio Fox (US) – €1,400,000
2. Chris Moorman (UK) – €800,000
3. Mortiz Kranich (DE) – €550,000
4. Brian Roberts (US) – €400,000
5. Dermot Blain (IE) – €275,000
6. Shawn Buchanan (CA) – €200,000
7. Jake Cody (UK) – €150,000
8. Max Silver (UK) – €115,000
Tags: 2010 WSOPE Main Event, 2011 WSOPE Main Event, 2011 WSOPE Main Event final table results, Brian Roberts, Chris Moorman, Dermot Blain, Elio Fox, Jake Cody, James Bord, Max Silver, Shawn Buchanan